This post may contain affiliate links. If you click on the links and buy, we get a commission. It doesn't cost you anything. See the full disclaimer here.
I don't understand people who would do this. Waterfalls must be magnets for idiots. When you see the contraptions they went over in, you'll wonder if they had a brain cell between them.
This is what they're up against, Niagara Falls, on the border between USA and Canada:
Spot those tiny people on the right? Yeah.
All lacking in common sense, and some more successful than others, we bring you the barrelling pioneers.
Here are the first 6 people to ride the 164 ft / 50m freefall drop of Niagara Falls in some sort of a barrel or device. Survival rate: 50%
1. ANNIE TAYLOR
October 24, 1901
The first person to attempt it. 63-year-old schoolteacher – Survived. In that thing?
2. BOBBY LEACH
July 25, 1911
In an all-steel barrel – survived, but spent 23 weeks in hospital. Not surprising really.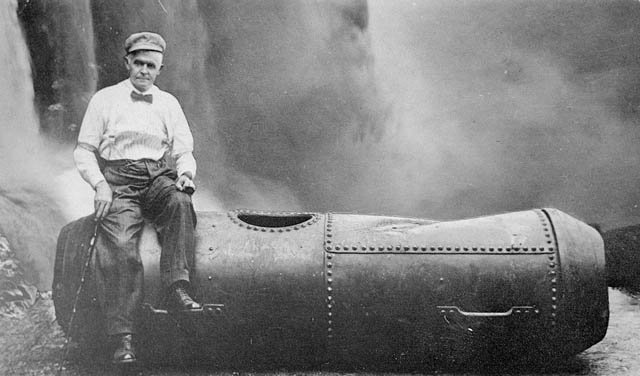 3. CHARLES STEPHENS
July 11, 1920
In a heavy oak barrel. Only one arm was recovered.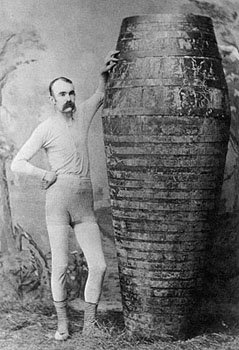 4. JEAN LUSSIER
July 4, 1928
In a six-foot rubber ball composed of 32 inner tubes and a double-wall steel frame. No serious injuries. Now we're getting somewhere.
5. GEORGE STATHAKIS
July 4, 1931
Greek chef from Buffalo. 2,000-pound contraption of wood and steel.
He survived the plunge but the barrel became trapped behind the curtain of water. He couldn't get out and he died when the air ran out in the barrel.

6. WILLIAM RED HILL JR.
August 6, 1951
Son of a famous daredevil. Due to lack of funding he made a cheap contraption called 'The Thing' – a few inner tubes held together with fish net and canvas straps.
It fell apart even before it reached the falls.
His body was discovered the next day.
*
So here's to them! Trailblazers on the front line of crazy. Many came after them, all in varying levels of deadly idiocy, but they were the pioneers. The mayors of Idiotville. We salute them.