This post may contain affiliate links. If you click on the links and buy, we get a commission. It doesn't cost you anything. See the full disclaimer here.
'The Oldest Footage Of Chicago' is a breathtaking collection of the earliest motion pictures made in Chicago from 1896-1935.
Our latest film features places such as the stockyards and Michigan Avenue as far back as 1896. It shows early 20th century clips of Theodore Roosevelt, Al Capone and recently discovered footage of the SS Eastland disaster on the Chicago River in 1915.
Here it is:
The film uses maps and dates to show the viewer exactly where the footage was taken.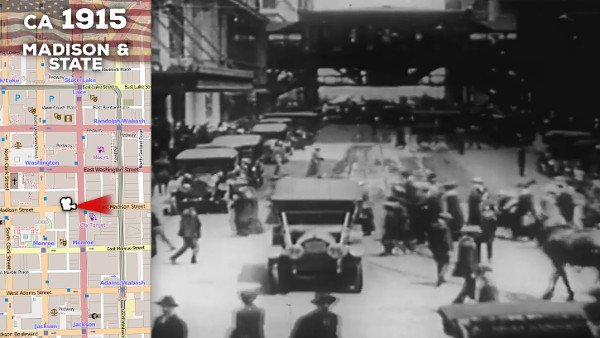 It also features several famous faces. Here, Al Capone exits the courthouse during his trial in 1935.
The film's soundtrack features Chicago-style rhythm, blues and jazz, as well as one of the oldest surviving audio recordings made in the city from 1893.
We also believe we've done something new. We've identified the location of the oldest surviving footage of the city – a short clip of a police parade in front of a now-demolished building in 1896. A Yestervid exclusive!
From the comparison, it's fairly clear the location was the Battery D building which stood on the corner of Michigan Avenue and Monroe Street. It was demolished later in 1896 to make way for the temporary post office building, also later to be demolished. It stood just north of the Arts Institute, in what is now part of Millennium Park.
Pretty cool! New facts and some old history. Something for everyone who loves Chicago!