This post may contain affiliate links. If you click on the links and buy, we get a commission. It doesn't cost you anything. See the full disclaimer here.
A Collection of Hand-drawn 3D, Aerial Maps of New York City in HD from 1865 to 1904
Feast your little carto-mad eyes on this collection of 12 hi-res old maps of New York City, all hand-drawn by well-known cartographers of the time.
What grabs you first is the atlas-like detail of each map. You can see cars, people and even pets. You can identify buildings and famous landmarks. From Harlem to Hoboken, we've got you covered.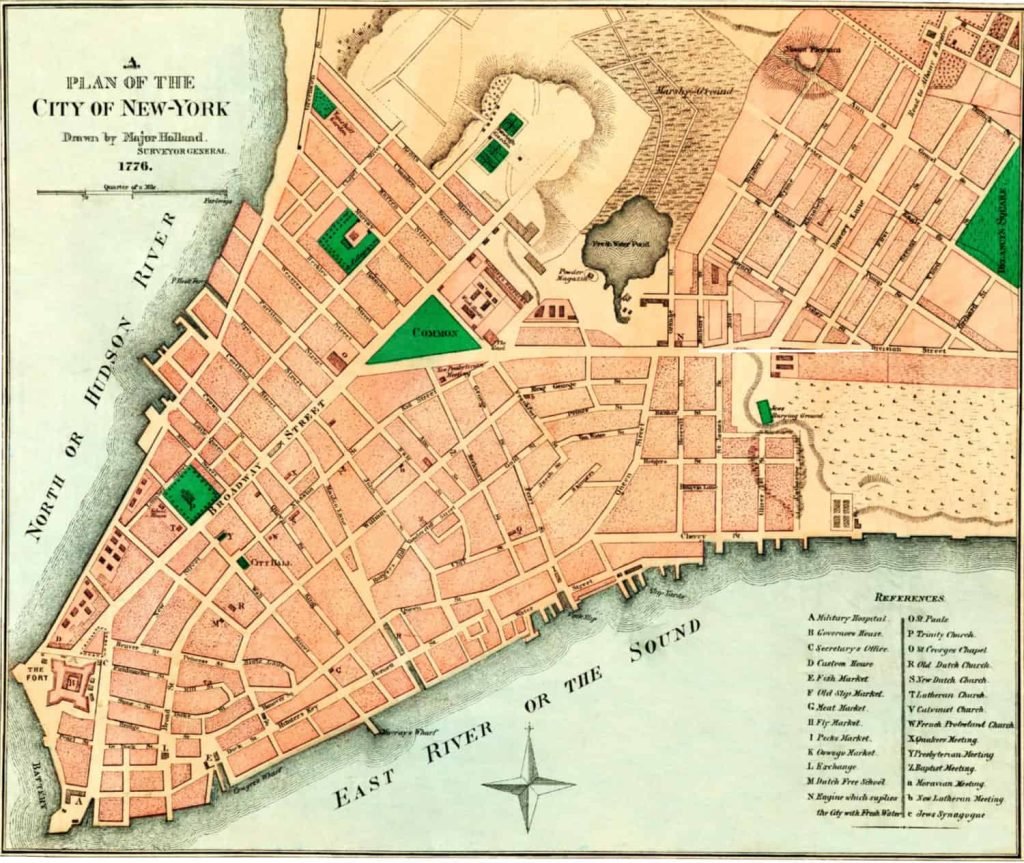 By artists that have taken painstaking effort to create a drawing of such beauty and interest.
And of course you can use the maps to chart the growth of NYC. You can see the city transform from a small port town to a bustling metropolis over the years. And the map gives a sense in a way no other can. It's hard not to marvel at these documents that show time on the move, from the city in its infancy to the giant it is today.
Maps like these are a valuable source of information for historians, providing us with an insight into the city's past. It's also fascinating to see how much has changed over the years, and how much has stayed the same. It's a unique way to experience the city's history.
Old maps help to locate historic sites and buildings, provide a visual reference and help with modern day transportation. Whether digital or physical, they will always be indispensable to us.
What Is A 3D Map?
A 3D map is a three-dimensional representation of an area, showing the terrain, buildings, landmarks, and other features. Unlike traditional two-dimensional maps that are drawn from directly above, a 3D map is a view of the landscape from an angle. They're called bird's-eye view becuase they're exactly what a bird might see.
What is Bird's-eye Perspective?
Bird's-eye perspective is a type of aerial view that shows a scene from above, usually looking directly down. It gives the viewer a wide panoramic of the landscape, which can spot patterns and make connections between elements in the terrain. The name comes from the fact that it reproduces what a bird might see when looking down at the earth from high in the sky.
While 2D maps are flat and can only show a limited amount of information, 3D maps are much more interactive and provide users with a more immersive experience. With the use of satellite imagery or aerial photography, 3D maps can show the exact topography of an area in great detail.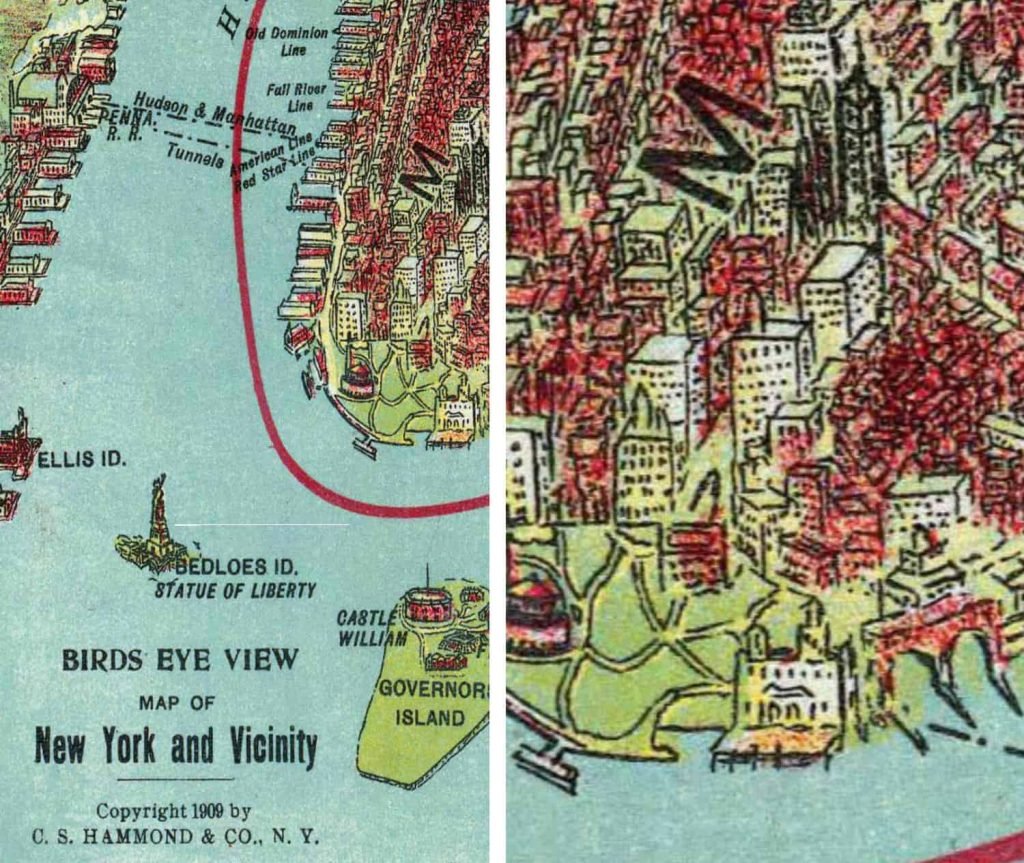 These types of maps can also see the environment from different angles and perspectives, making them ideal for urban planning and visualization applications. 3D maps can help people better understand the complex relationships between various elements within an environment, such as roads, buildings and rivers. Plus, they're beautiful to look at.
Limitations of 3d Maps
Back in the 1900s, companies made 3D maps for promotion and marketing. They would commission a map, slap their name on it and give them out for free to hang in offices or homes.
Because the goal was commercial art rather than navigation, the maps were often not usable. They give a good appreciation of the area, but the perspective creates a few problems.
Firstly, they're no longer flat, reliable images. There are blind spots which make almost half of all locations invisible.
Second, they're less than accurate. Most lack place names, street names, symbols, and labels.
Third, because they present only one static angled point of view. This third dimension means the further you move from the viewer, the smaller the map becomes. Towards the horizon, you simply run out of space to cram in any detail.
This severely limits the usefulness of 3D maps for navigation.
But that's not really their purpose. They look good, and that's enough.
Antique Maps of New York City – 1865-1904
It's easy to see the city as it existed before modern technology and development changed it. You can see the streets, avenues, and parks, as well as the bridges and waterways that still grace the city today. Buildings, churches, and other landmarks are also visible and give the viewer a sense of the character of the city. Combining hand-drawn details and the 3D perspective give the maps an almost magical quality, allowing you to travel back in time and explore how the city looked and felt.
They remind me of Google Earth, if Google Earth had existed in 1900. Instead of satellite images and 3D mapping, people would have used old maps drawn by hand. These maps would have detailed the street layout of the city in great detail that people would have used as the primary navigation tool. They would have also featured a variety of other information, such as the city's landmarks, parks, and public buildings. Even with these old maps, one could almost feel the energy and movement of the city in a way that you can't quite explain.
History of mapping in New York City
The history of mapping in New York City dates back to the 1600s. The Dutch were the first to map the area, creating detailed charts of the island of Manhattan and its surrounding waters. They used these maps for navigation and trade routes, as well as for military defense.
In the 1700s, British surveyors took over mapping duties and created larger-scale maps which showed individual streets and plots of land. As New York City continued to expand, so did its maps. By the 1800s, large-scale city atlases had become commonplace and by 1900, aerial photographs were being used to create even more accurate depictions of the city's layout. Today, digital technologies have allowed for unprecedented levels of detail in mapping New York City's geography, making it easier than ever before to find one's way around this bustling metropolis.
What is the Oldest Map of New York City?
The Oldest Map of the land surrounding New York City
The oldest map of the area we now know as New York City is the Manatus Map. From 1639, it shows what is now Manhattan, Brooklyn, the Bronx, Queens, Staten Island, and New Jersey. We don't know the artist, but cartographers were working for the Dutch Republic when they made it.
You find this one on the Cartoko Map Database in high resolution, highly detailed and with vivid hues. The cartographer's expert use of watercolour paints is clear in the subtle brushwork that outlines the rolling landscape. There are miniature, endearing portrayals of both Dutch (small red dwellings) and Native American (elongated dwellings) villages, often close to each other.
The John Ratzer Map of New York City
We can trace the oldest map of New York City itself back to 1660, when British surveyor John Ratzer created the first detailed plan of the city. This historical document was a remarkable feat for its time, as Ratzer surveyed, measured and mapped out each street in Manhattan—something that no-one had done before.
The Ratzer map of New York was the first to illustrate sizable parts of Brooklyn and Queens as rural land, besides New Jersey.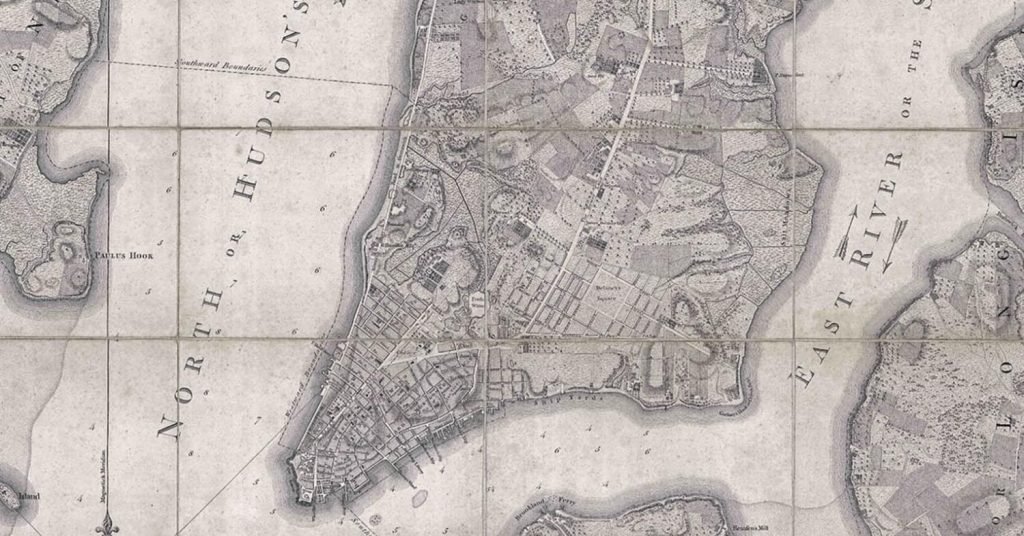 Colonists used the map to gain a better understanding of the landscape and terrain. It also provided vital information on where to locate new settlements, roads, and bridges. Although it is no longer in its original form, they have preserved this map as a testament to centuries of growth and development in New York City. To this day, it remains one of the most important artifacts in the city's history's evolution.
Map Collection
Kimmell and Forster 1865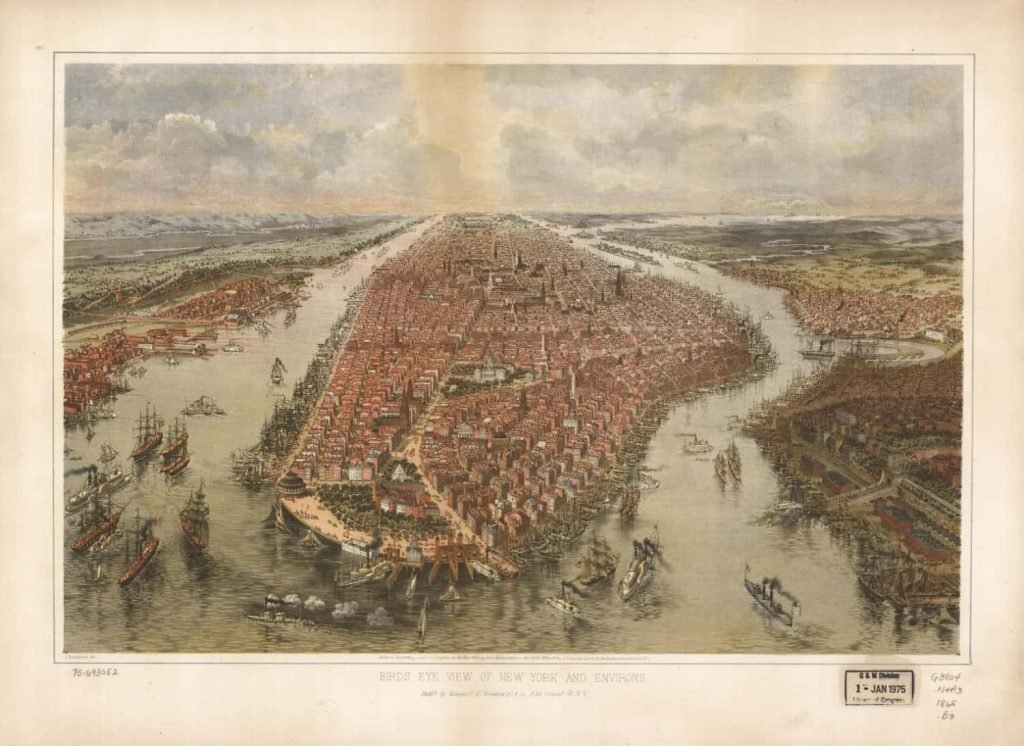 A bird's-eye view of New York and environs from 1865.
Brooklyn 1879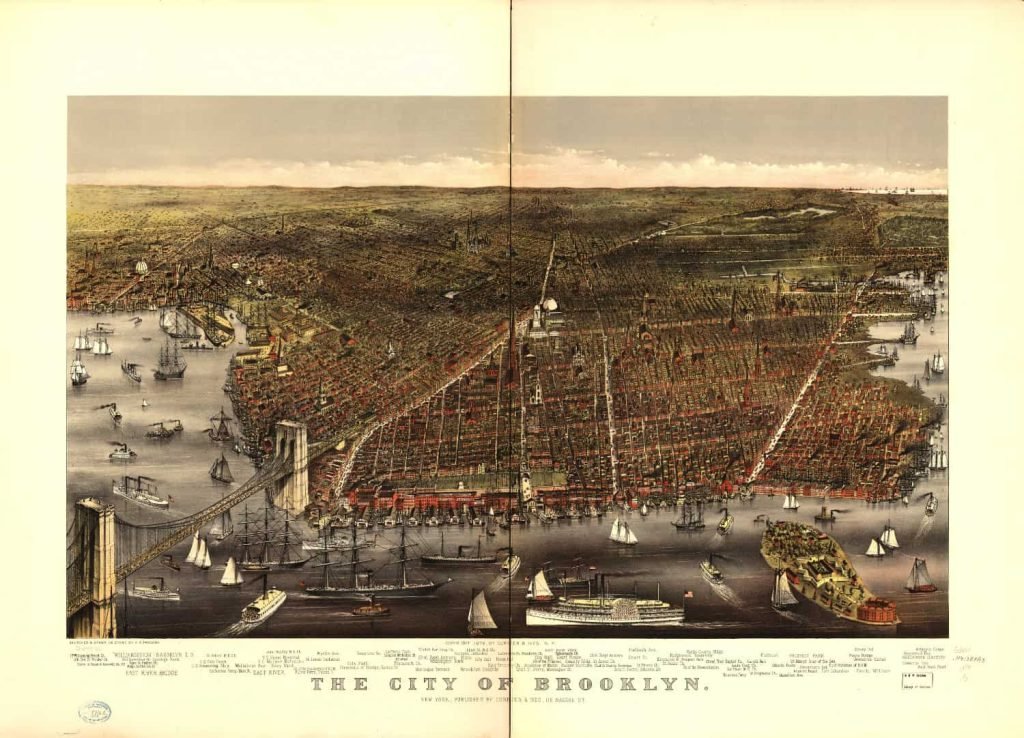 Published by Currier and Ives of Nassau St, this shows Manhattan, the East River.
A few things we spotted: Williamsburgh Savings Bank, Simpson Methodist Church, Wallabout Bay, East River Bridge, St. James Cathedral, Tompkins Square, U.S. Marine Barracks, 23rd Regiment Armoury, City park, City Jail, Washington Park, Terminus of Bridge,-Sands Sr, Montague Terrace and Brooklyn Heights.
The City Of New York – Currier and Ives 1870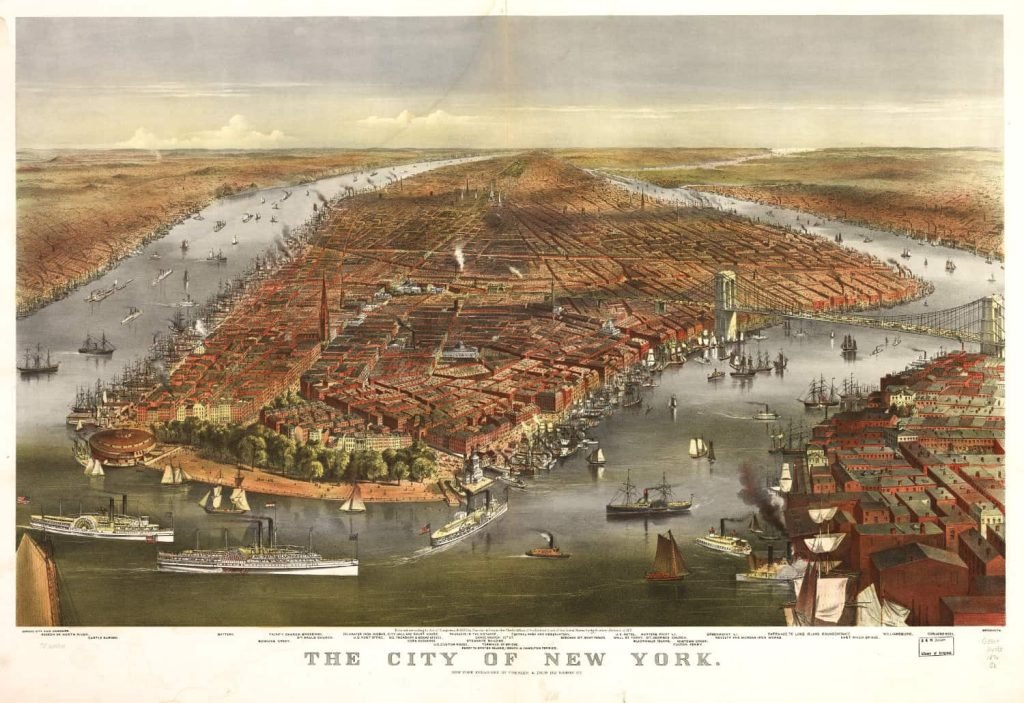 Another map published by Currier and Ives of Nassau St, showing Manhattan in 1870.
You can see Jersey City and Hoboken, Hudson or the North River, Castle Garden, Battery, St Paul's Church, Bowling Green, U.S. Treasury, Corn Exchange, Ferry to Staten Island, Blackwell's Island, Entrance to Long Island Sound, East River Bridge, Williamsburgh and Brooklyn.
New York and Brooklyn 1870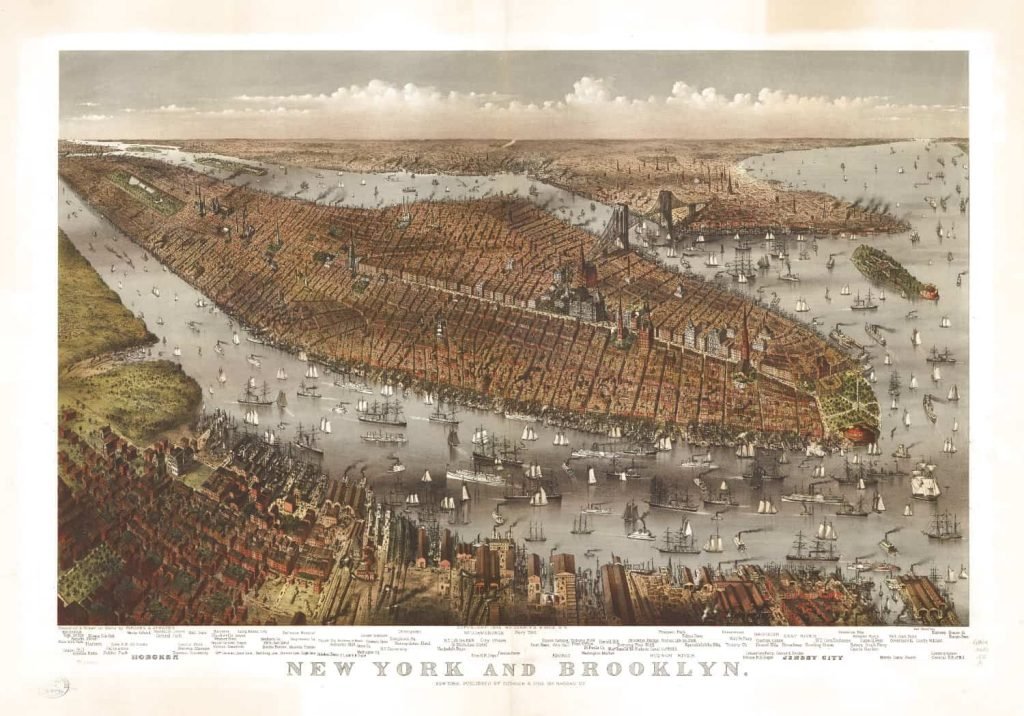 Yet another Currier & Ives map, showing New York and Brooklyn in 1870. You can see Greenpoint, the Cooper Institute, Metropolitan Hotel, Masonic Temple, City Prison, N.Y. University, the Hudson River, Customer House, Brooklyn and the East River.
New York – Rogers Peet and Co 1879 (Currier & Ives, N.Y.)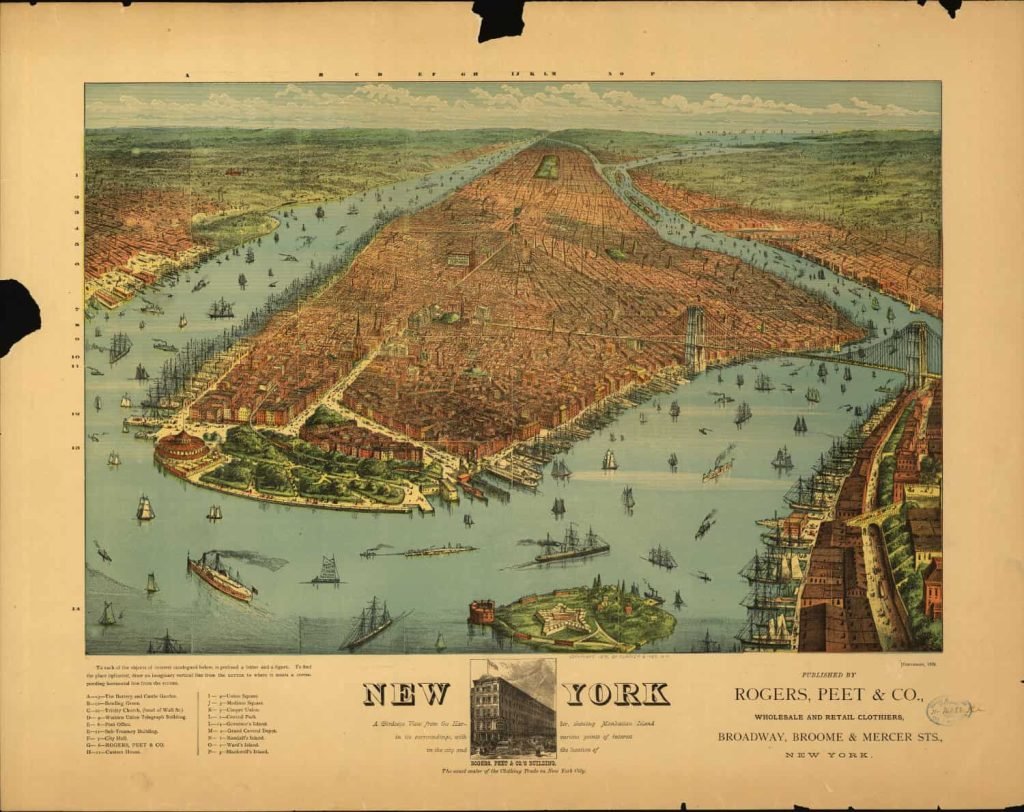 A bird's-eye view from the harbor, showing Manhattan Island in its surroundings with various points of interest in the city and the location of the exact center of the clothing trade in New York City.
New York und Umgegend b and w – 1875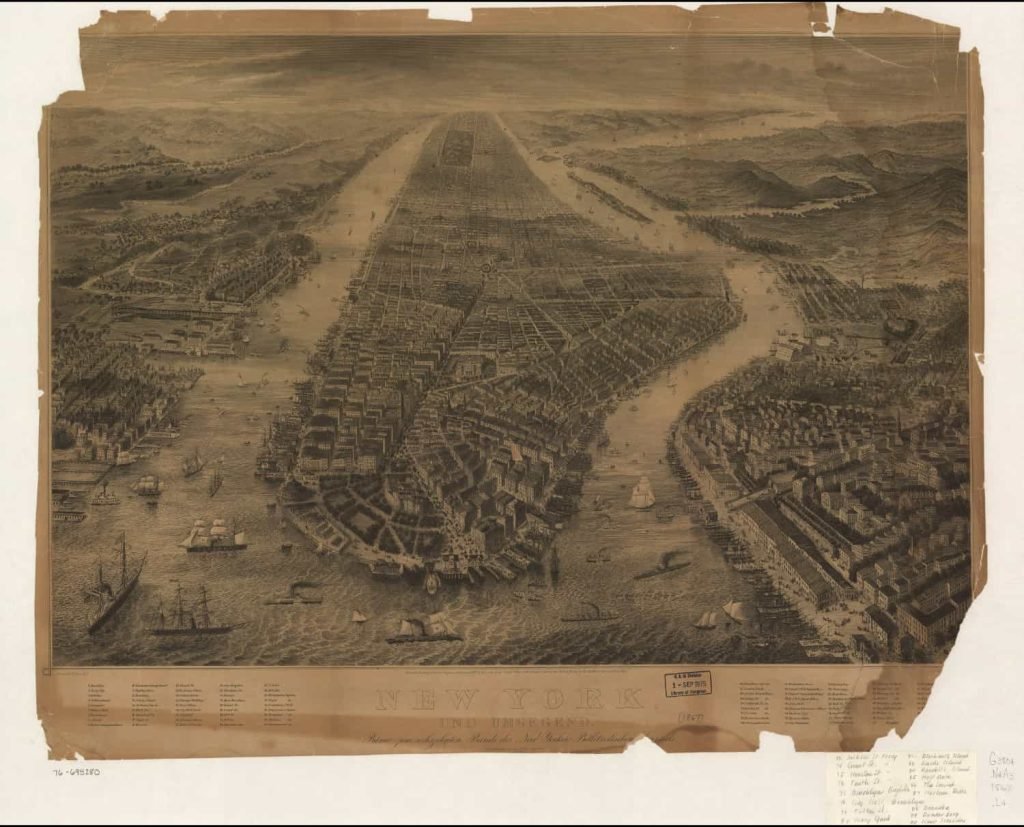 They obviously intended this map for a foreign market as the title 'New York Und Umgegend' (New York and vicinity) is in German. Shows high Bridge, Morrisania, Blackwell's Island, Madison Square, Booth's Theater, Stewarts Store, Tompkins Square, Equitable Life Insurance building, Prospect Park, Atlantic Basin, Fort Hamilton and Bergen Point.
Prohibition Park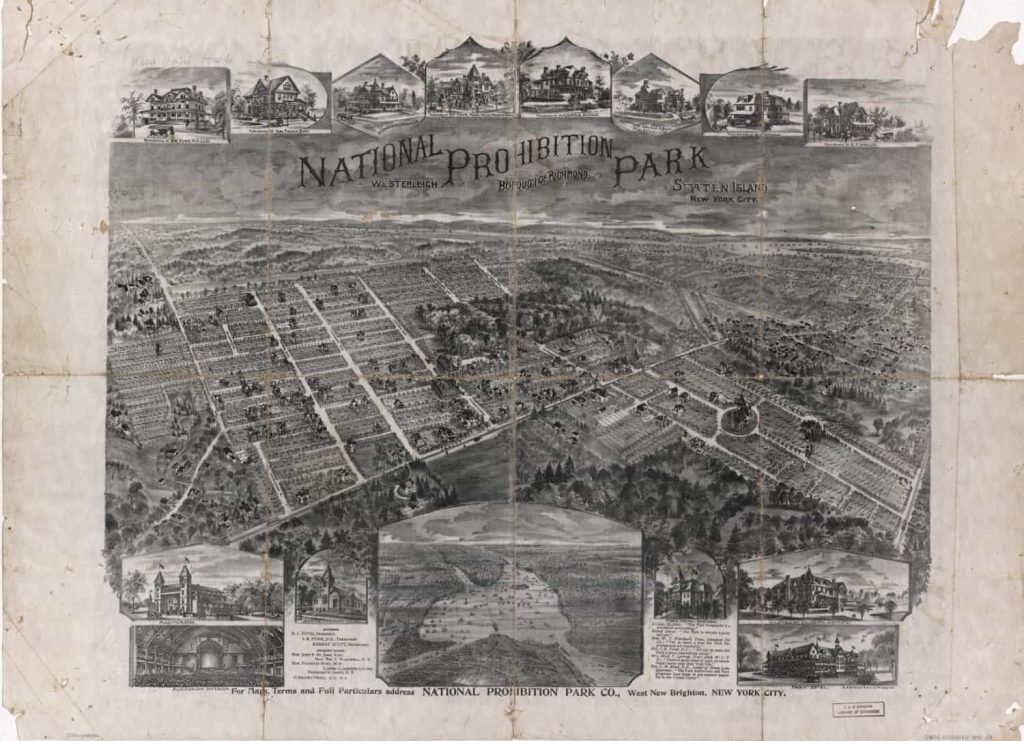 From West New Brighton, NYC, this map shows the Auditorium, Deems' Memorial Chapel, The New York Bay, Westerleigh Collegiate Institute and Park Hotel.
Hoboken 1904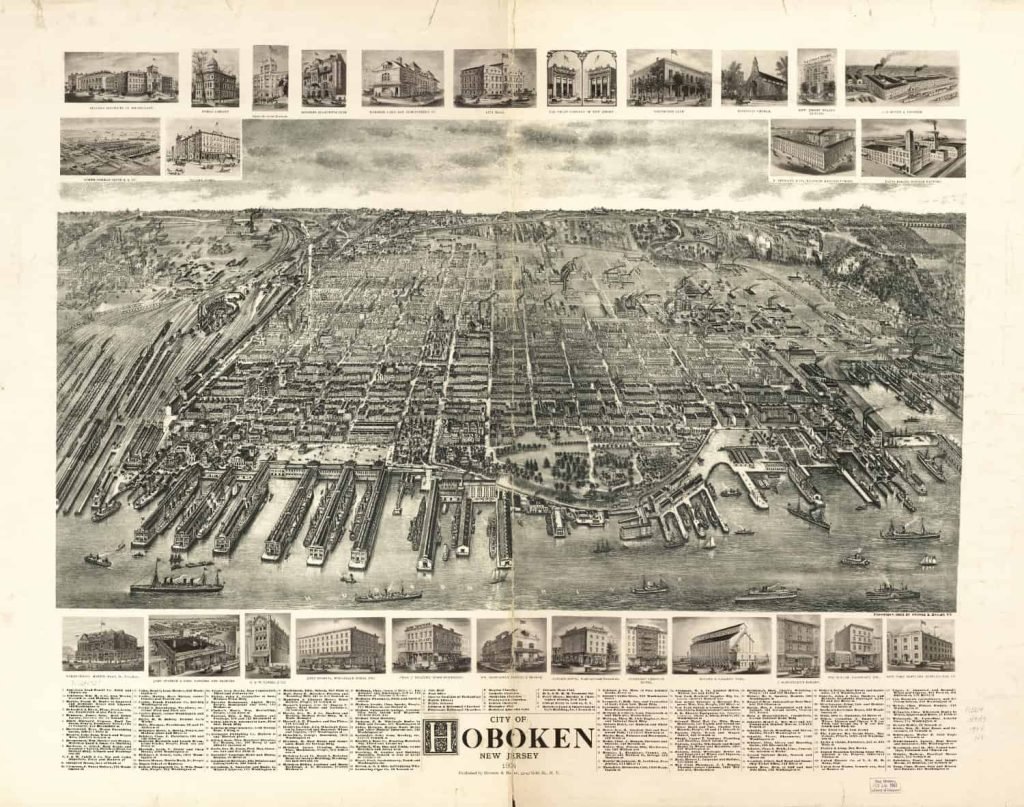 Published by Hughes and Bailey in 1904, this one shows several department stores, such as Dukes House, John Stenbeck & Sons, J & W Cahill, John Podesta, Chas. J. Delehey, home Furnisher, WM Bremerman, Banker and Broker, Coyle's Hotel, Gonzales American Hotel, McGann and Callery Coal, J. Schuemann's bakery, WM Moller Hardware and New York Bottlers' Supplies Manufacturing Company.
Harlem River 1897

From the Department of Street Improvements, this is a bird's-eye view of that portion of the 23rd and 24th wards of the City of New York, lying westerly of the New York and Harlem Railroad and of the Grand Boulevard and Concourse connecting Manhattan Island with the Park-System north of the Harlem River.
Where can I download old maps?
If you are interested in downloading or viewing these old maps, there are several sources available. You can find digital copies of these maps in the collections of the New York Public Library, the Museum of the City of New York, and the Library of Congress. You can also find online collections at websites such as NYPL Map Warper, Old Maps Online, and David Rumsey Map Collection. These sources provide access to hundreds of old maps, with some dating back to the early nineteenth century.
Old maps of New York City provide an interesting insight into the historical development of the city. We can trace the growth of the city from a small colonial settlement to a major international hub. They also give us a glimpse into the lifestyles of the people who lived in the city. With these old maps, we can explore the city as it was before we built the skyscrapers, highways, and bridges.